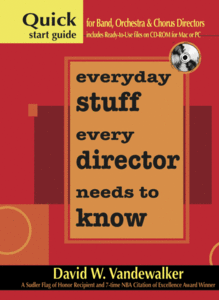 Resources
​
The Booster Institute
The Booster Institute is a 5 hour training seminar hosted nationally across the U.S. in venues like the Texas Bandmasters Association Convention, The University of Alabama Leadership Institute, and The Music for All Summer Symposium.
​
​
​
​
​
​
Foundations for Wind Band Clarity:
18 Arrangements for Concert Band
Learn how to create superior ensemble sound by developing practical, concrete methods of teaching the abstract concepts necessary for genuine wind band clarity. This collection of music provides directors with cost-effective, practical charts focusing on the essential concepts for developing lyrical, technical, and articulation mastery critical for creating clarity and a superior ensemble sound! Resources includes the full PRINTED edition of instructional chapters and full scores for all 18 concept-based adaptations. CDROM includes all score and parts on PDF.
Foundations for Wind Band Clarity: Instructional DVD
This quick start guide to wind band clarity presents clinic sessions of time-tested teaching strategies on DVD. Examine how to quantify the subjective musical concepts for more effective and efficient rehearsals. Topics include breathing and air flow, balance and blend, horizontal shape, vertical Alignment, articulation, style, prioritizations of the sound pallate, and developing sound through the use of chamber music.
Everyday Stuff, Every Director Needs to Know
This Quick Start Guide provides directors with practical tools for dealing with the Purpose, the Professional, the People, and the Plan! Includes a CD-ROM with Mac and PC documents. Customize hundreds of forms, databases, and documents ready to print and go.
Boosters to the Rescue
shares time-proven insights about booster organizations and volunteer management in this "how-to" survival kit handbook. The Boosters to the Rescue Handbook is the complete method for creating a 21st century booster organization that functions as a small business. This product will help you build a delegation of delegation from scratch or help you transition from a little league operation to the big leagues! This handbook includes both printed chapters and the CD-ROM of customizable letters to parents, administrators , and students. As well as files on music advocacy, budget, committee, structure, conservatory, staff contracts, parent handbook, communications, public relations, fundraising, management documents and more.
Strategic Plans for a Successful Booster Club
As budgetary demands continue to shift more to the local level, many non-profit volunteer organizations are charged with providing greater responsibilities to provide additional physical and fiscal support. Two compact discs provide ready-to-use detailed plans and customizable templates for organizational chart models tools, volunteer job descriptions, project planning guides, vendor, budget, and review forms, action item lists and a variety of other organizational management resources.
TO ORDER: click the image to purchase online
Resources are also available via your local distributor.